Active@ File Recovery is one of several data security and disk utility software applications, developed by LSoft Technologies Inc. With the release of version 8.0, Active@ File Recovery is solid, fine-tuned and effective data recovery software with a variety of great features and utility.
Using it:
From an everyday user point of view, this software's user interface is nothing beautiful. This software has a very simple layout, easy to navigate and very intuitive to use. It feels a bit like using Windows explorer, where any storage devices, hard drives or USB's are automatically discovered and listed on a panel on the left.
Then you can scan any of the given devices and see what Active@ File Recovery was able to recover for you in a larger area on the right. The scans don't take long, by the way. My hard drive took half a minute. Everything is easy to navigate, so as long as you know what you deleted and where it was, it's fairly simple to find the file that you're looking for.
Picture: The main application window. Looks familiar, eh? Click to enlarge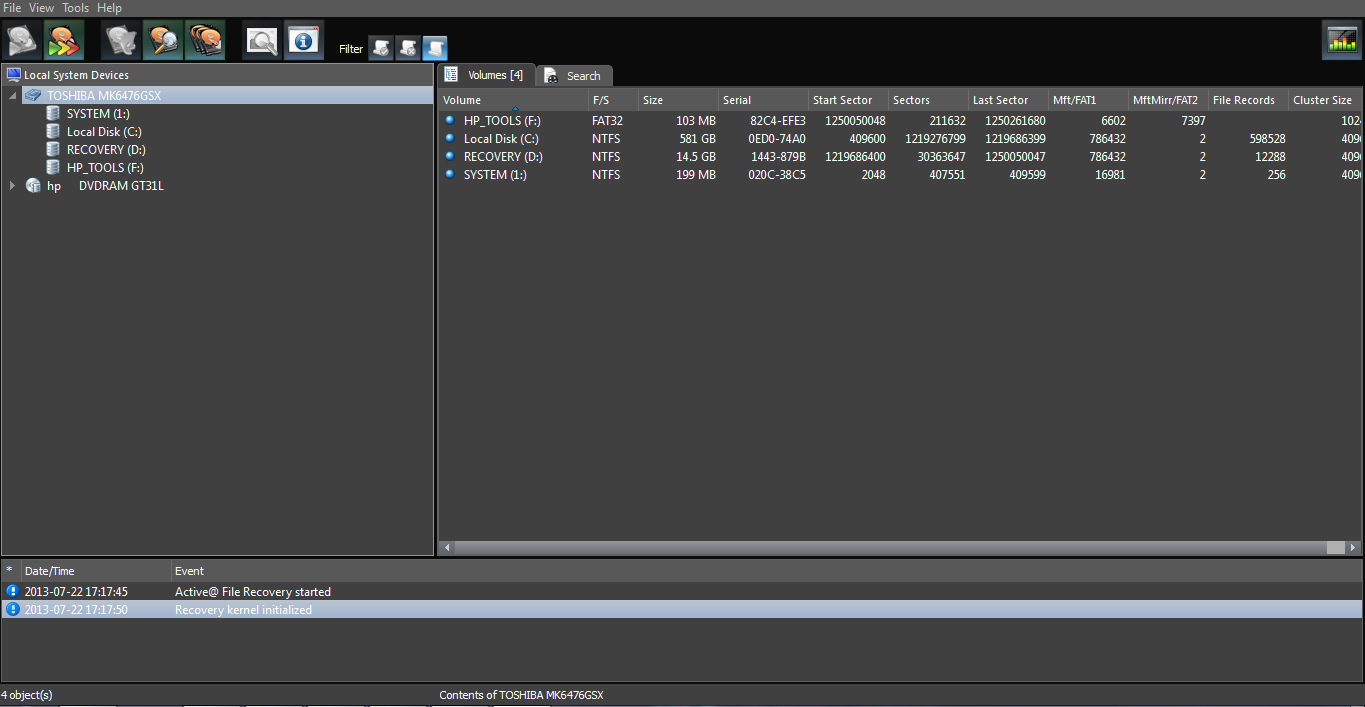 Now for the bad. Although LSoft pretty much emulated Windows Explorer (which is actually very comfortable, seeing as how most users are already familiar with the formatting of the application), but they didn't take all of it, making navigating around a bit uncomfortable. Although it isn't a very big deal, it does get a somewhat irritating, navigating across a somewhat incomplete version of Windows Explorer. It was mostly the lack of a "Back" button when looking through folders that got me.
Also, the color scheme is a bit dark. It's as if you hit the "lights off" button in an online media player. I tried looking for a way to make a lighter color scheme through the settings, but no luck. I know it's a little bit picky, but this is the UI section of this review, what did you expect?
Functionality:
In terms of functionality, there is nothing bad I can say about this software. If you're looking for something that was recently deleted, this software is almost guaranteed to find it and dozens of other files you've long forgot that existed. Just try this software on an old camera memory card. Suddenly, you'll have a trip down memory lane.
After doing several tests with this software, seeing how it would work (for fun, mostly), it can save you from accidentally formatted drives, deleted photos or lost documents. Most importantly, it does it fast. A "Quick Scan" is typically good enough to find whatever deleted files you need and that won't take you longer than a few minutes. Of course, if your deleted file isn't found at first, you may spend a few more minutes with the "SuperScan", but it won't cost you much more, in terms of time.
Bottom Line:
In conclusion, I would absolutely recommend this software to anyone that isn't meticulous about backing up every single file that comes their way. For those of us who don't have boxes full of external hard drives with backups, it's great software to just have around. You may not need to use it for a while, but when you do, you'll be very glad to have it around. Although it does have a few quirks that take a bit of getting used to, in terms of function, Active@ File Recovery is a life saver and can really help you out of tough situations.